Tibialis Posterior Dysfunction
A cause of a flat foot
What is the Tibialis Posterior muscle?
The Tibialis Posterior (TP) muscle is a muscle that starts on the back of your shin bone (tibia), travels down behind the inside of your ankle and ends up as a very strong, large tendon connecting to the bones on the instep of your foot. It has an important role in providing mechanical support to your foot, helping it to function when you are walking. It also assists in maintaining your foot arch.
What causes it to not work properly?
The tendon around the ankle can become damaged by gradual wear and tear or sometimes after an injury however it can sometimes be difficult to explain why some people end up with a damaged tendon. This can cause foot arch pain and result in gradual flattening of your foot. This pain and swelling may cause your foot to roll inwards causing a typical flatfoot deformity. In more severe cases this change in foot shape can lead to arthritis in some joints in the foot.
How is the condition diagnosed?
The surgeons clinical examination along with X-Rays and an MRI typically help to diagnose the condition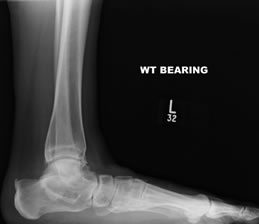 How can this be treated?
Generally there are two main groups of treatment, operative and non-operative.
Cases that are initially quite mild in nature can respond well to non-operative treatments. This may involve periods of foot and ankle immobilisation in a walking boot to rest the painful tendon. Once this has taken effect the boot can be replaced on a more long-term basis with a special insole/orthotic for your shoe. If non-operative treatment is not desired for any reason or insoles are not suitable, then more rigid custom made boots/shoes can often help, especially in the less physically-abled population.
On the other hand, if non-operative treatment is not suitable or unsuccessful then your surgeon will discuss operative treatments such as a tibialis posterior tendon reconstruction as detailed below.
What is a Tibialis Posterior Reconstruction?
Tibialis Posterior Reconstruction, does not actually reconstruct the damaged tendon back to normal, it is actually an operation that uses another tendon in your foot as a substitute for the damaged tibialis posterior. Most often, the tendon transferred to where the normal TP is found is called Flexor Digitorum Longus (FDL), which normally helps to bend your toes. Transferring the FDL to substitute the TP tendon in reality does not adversely affect patients with any great significance and they can still bend their toes. This is all done with an incision on the instep of your foot.
The tendon transfer alone is not strong enough to support your foot arch. To assist the newly transferred tendon we routinely perform one other operation called a calcaneal osteotomy. This is a purposely made cut in the bone (osteotomy) in the heel bone (calcaneum), to allow us to reposition the heel bone slightly and fix with a metal screw. By repositioning the heel bone it helps improve the support to the arch of your foot. To do this a small incision is made on the outside of the heel bone.